Breaking: it's the media's fault that Trump is uncivil and that we're forgetting that last Friday, Michael Cohen's meeting today with the Senate Intel committee was "postponed" again probably because they knew Cohen would not cooperate. More importantly, it may signal how solid the Mueller evidence related to Cohen might be.
Yet the GOP is still talking about HRC's emails and her selling uranium in 2010 … again.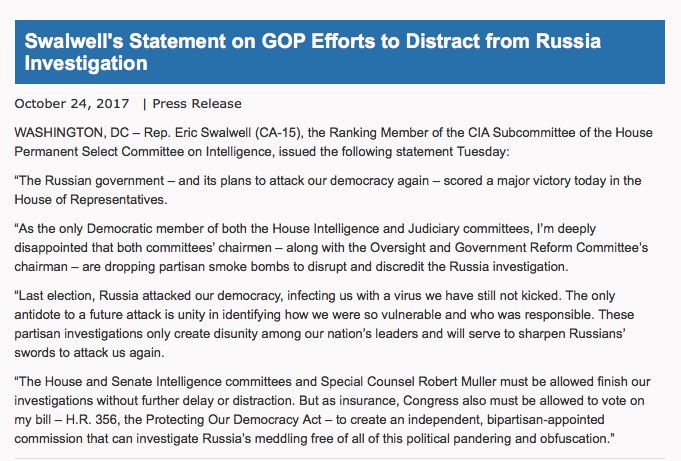 x

"Clinton campaign & DNC paid for research that led to the anti-Trump Fake News Dossier. The victim here is the President." @FoxNews

— Donald J. Trump (@realDonaldTrump) October 25, 2017

Conservatives and some others in the press have treated this as a shocking revelation, but it's not. It's long been known that Republicans first funded the dossier and that Democrats then picked up the project during the general election.

As the Post itself noted in the story, "Research into Trump was funded by an unknown Republican client during the GOP primary."


Producing opposition research is considered normal for any campaign. The only thing unusual in this case is that that opposition research extended to Russia because the Republican nominee for president seemed to be colluding with Russians during the campaign.

The problem for Trump and Republicans in drawing attention to the dossier is that since its contents were first

made public

in January, when some observers tried to dismiss the document as nothing more than second-hand gossip, the veracity of the report has been confirmed again and again.

"Taken together, the series of reports painted a picture of active collusion between the Kremlin and key Trump campaign officials based on years of Russian intelligence work against Trump and some of his associates," Just Security, a national security news site, reported last month. "The dossier's information on campaign collusion is generally credible when measured against standard Russian intelligence practices, events subsequent to Steele's reporting, and information that has become available in the nine months since Steele's final report."

x

Opposition research is unethical, unless you are soliciting it from the Russian government in a secret meeting in Trump Tower

— Judd Legum (@JuddLegum) October 25, 2017
One of the new Clinton inquiries

will revisit, yet again, the issue of Clinton's private emails during her time as secretary of state, and specifically how the Department of Justice handled that inquiry.

The other will address

the 2010 sale of American uranium production capability to a Russian state-run energy conglomerate, and the Obama administration's approval of that sale — a supposed scandal that was debunked

in 2015.

Both investigations smack of a deliberate attempt to move the focus away from Trump and his White House, which has been under non-stop investigative scrutiny this year, particularly surrounding the mountain of evidence pointing toward Russia's interference in the election on his behalf.
So Trump in conjunction with the GOP is trying to create distance from its data firm using its ties to WikiLeaks which is only one portion that may be more convoluted because of now a interesting combination of classified / unclassified evidence that is about other Russian entanglements.
So there was an interest in data pilfered from the DNC and from HRC,
The Trump campaign was interested in acquiring such data and willing to meet with Russians under some bogus context.
There was some contact between Trump's campaign and WikiLeaks, but that was only part of the many channels of interest in oppositional data, regardless of its origin and in terms of an interest in electoral data, regardless of type that would serve other targeting purposes.
x

Cambridge Analytica's CEO messaged Rebekah Mercer that he emailed Assange seeking access to Clinton's private emailshttps://t.co/MFiJeLzVAu

— Citizens for Ethics (@CREWcrew) October 25, 2017

---

"Russia, if you're listening, I hope you'll be able to find the 30,000 emails that are missing," Trump said.

And on the campaign trail, Trump praised WikiLeaks and tweeted about its findings. Politifact calculated that he mentioned the site about 137 times during the campaign.

After publication, Assange provided this statement to The Daily Beast: "We can confirm an approach by Cambridge Analytica and can confirm that it was rejected by WikiLeaks."

Nobody has published the 33,000 emails that were deleted from the personal email server Hillary Clinton used while she was secretary of State.

"It's not at all clear that anybody hacked Clinton's emails or has them," said one of the sources familiar with the investigation.

x

This has echos of earlier Peter Smith story, but Cambridge Analytica's ties to Mercer/Bannon/Kushner world are far stronger and documented. https://t.co/b1qP4jrXU6

— Susan Hennessey (@Susan_Hennessey) October 25, 2017
x
Post nuclear winter, Donald Trump will have a +9 approval rating among D's during Commisar Bannon's first reign. https://t.co/gTovyv3jx4

— Chris Hayes (@chrislhayes) October 25, 2017